"We wouldn't go back to that other life for anything….
The freedom we have is simply amazing. And while we still deal with everyday life, there is serenity all around us. It's a slower pace, a simpler life, and we are much more deeply connected and happy."
— Howard Payne, Full-Time RVer and RV Freedom Now Story Contributor
If you are dreaming of a Full-Time RV Life
It's time to stop dreaming and take action!
Discover the 10 Steps You Need
to Live the Ultimate RV Lifestyle
from Real-World People AlreadyDoing It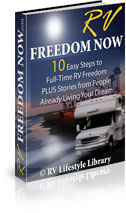 RV History
Americans, it seems, have been destined to be RVers since the earliest days that explorers set foot on this continent. Adventurers at heart, settlers came in search of freedom and opportunities to grow and discover. And discover they did – first by ship, then by horse, in groups by Conestoga wagon trains and, ultimately, by motorized vehicles that ushered in the RVs of today.
 The RV lifestyle has endured through war and peace, booms and busts, fuel lines and fads and is still going strong, even in today's challenging economic times.
RV Freedom and lifestyle can be yours.